Skip to Content
Your Leading Outdoor Lighting Service
The way light flows across your garden or next to your pool is a small detail, but it's a detail that adds a huge impact to your property's value and aesthetics. Prestige Landscaping offers stylish and affordable custom lighting design services and outdoor lighting installations. We carry a wide range of outdoor lighting fixtures that increase the safety and visibility of your outdoor space, while adding to its visual appeal.
We've served countless residents and businesses throughout the years, and we'll ensure you're more than satisfied with work. Give your home or storefront stylish lighting for less when you contact the outdoor lighting specialists at Prestige Landscaping today.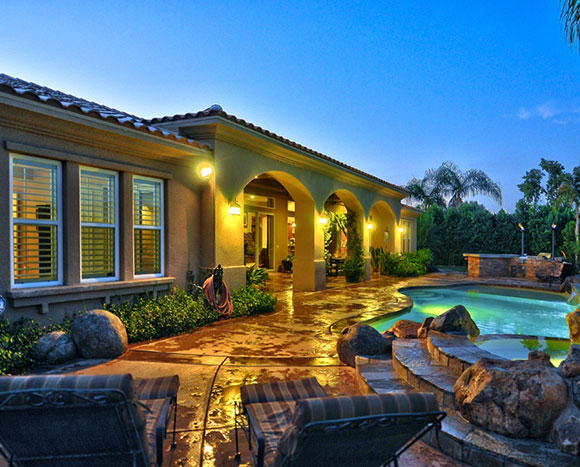 Stylish Lighting Design
Outdoor lighting not only enhances the beauty of your home and property but provides safety and security for your family. Outdoor lighting also has the added benefit of allowing you to take advantage of your outdoor spaces after dark and can improve your home's curbside appeal.
At Prestige Landscaping, we'll help you clearly define your lighting objectives. We'll help you decide your lighting priorities, and we'll use only the best-quality and well-constructed fixtures so you don't have to replace them continually. We have a passion for designing and enhancing outdoor environments that create beauty and meet the needs of our clients. We'll help you choose from several attractive designs and a variety of lighting colors, fixture shapes, and styles. Find out more about our signature outdoor lighting options by contacting us now.
Planning Your Outdoor Lighting Locations
With today's latest low-voltage LED lighting and solar powered lights, you can create an effective and eye-catching lighting scheme for your outdoor spaces for a lot less than you might expect. Whether you're looking to light a pool deck, patio, walkway, or front door area, we can offer innovative and affordable lighting solutions.
Front Entrance
Wall sconces and recessed lighting
Garage
Lanterns and motion sensor lighting for added visibility and security
Steps, Paths, Driveways
Low-level path lights and shrubbery lights
Decks, Porches, Patios
Low-voltage mini lights and tree/branch spotlights
Pools and Fountains
LED lighting and water lighting
Outdoor Kitchens
Recessed spotlights and roof overhang lighting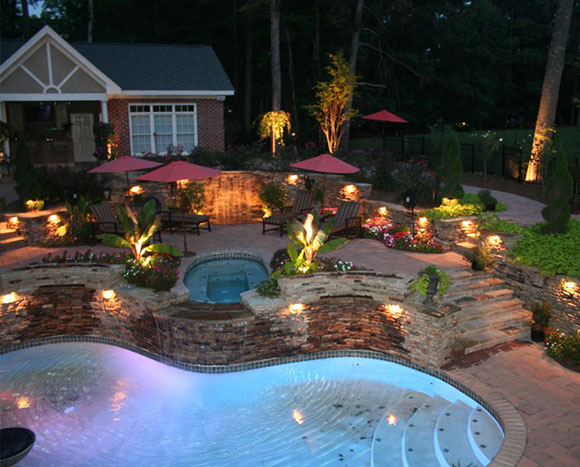 Quality Products, Reliable Installations
At Prestige Landscaping, we take pride in our ability to provide quality outdoor lighting, stylish hardscapes and water features to match any style. We carry a huge inventory of top-brand landscaping products, and we offer unmatched lawn care and flower maintenance.
Our design team has years of experience and will create a stunning outdoor space based on your needs and your budget. When you want quality outdoor living products and reliable lighting installations, Prestige Landscaping is here to meet your needs and exceed your expectations.
Landscaping Is Living Space That Just Happens to Be Outdoors!